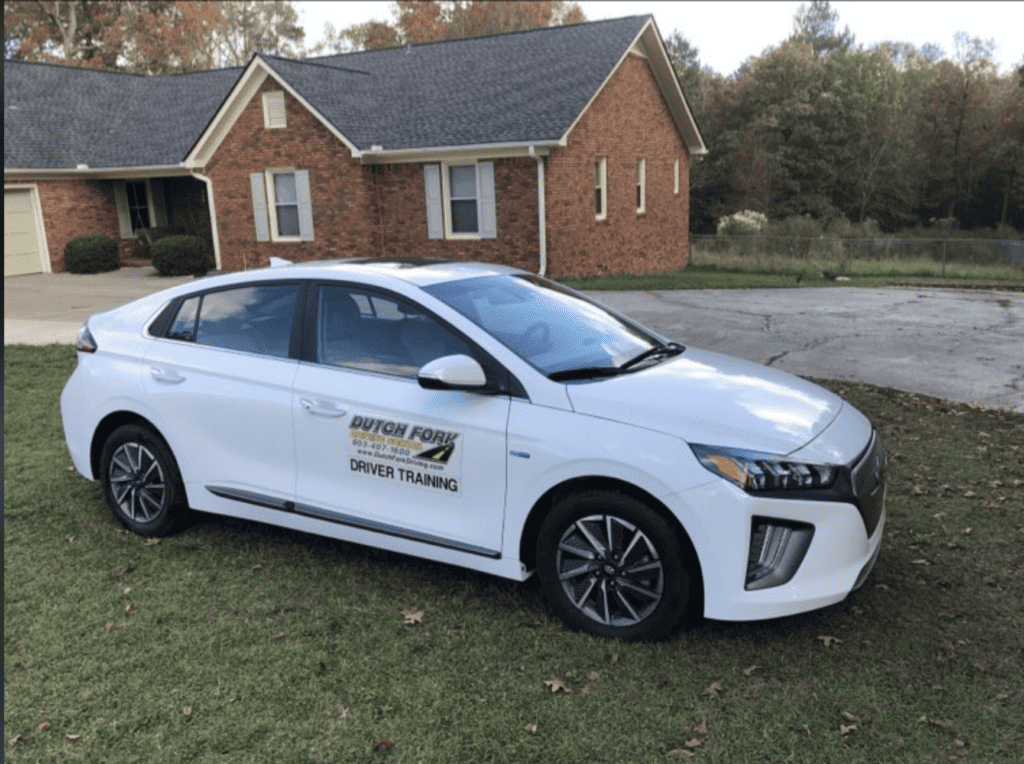 2020 Hyundai Ioniq 
The Ioniq is equipped with automatic transmission and dual brake pedal.
Very easy to learn, and road test, with.
Please call Richard Zimmer at 803-407-1600
or send us a message using the contact form to schedule.
Dutch Fork Driving School offers driver instruction for teens and adults in the Irmo, Ballentine, Chapin and outlying areas.
Certified to administer the actual road test in lieu of having a DMV examiner!
The rate is $400 for the standard course.
Standard course: 8 hours classroom / 6 hours driving
2022 Eight-hour Class Days
Testimonials from Satisfied Customers
Driving has terrified me ever since I got my permit when I was 15. I had taken the driver training with another company and was not nearly as prepared for the road test as I was after I completed my third lesson with Mr. Zimmer. He made learning to drive easy and a lot less stressful for me.
McCauley Wilder (18, Graduate of Chapin High)
Michael was very complimentary of you and shared what you taught him with us. You were very patient, encouraging and thorough. I wish I knew about you for our daughter and hope you're around in 9-10 years for our 6 year old.
Debbie Sawyer (Mother of Michael, 16, Sophomore at Irmo High)
Andrew took his test on July 19th and passed the first time! You had him very prepared for the driving test. I've been telling all my friends to use your driving school. We'll see you in two years when his sister turns 15!
Marjorie Mack (Mother of Andrew, 15, Sophomore at Ben Lippen)
So I finally got my license. All that build up for the test, and it turned out to be one of the easiest things I've ever done. Thanks Mr. Zimmer!
Luke Amick (16, rising Junior at Dutch Fork High)
Communication was excellent with reminder emails and follow-up face to face feedback after each driving lesson. Joey was well prepared for the driving test and was pleased to pass on his first attempt.
Gloria Barrett (Mother of Joey, 16, rising Junior at Ben Lippen)
We are soooo PROUD of Miranda! Thank you so very much for giving her the confidence…you made my teaching so much easier.
Barbara Frederick (Mother of Miranda, 18, graduate of Governor's School of Arts & Humanities)